Eight arrests in child sex raids in Rochdale and Oldham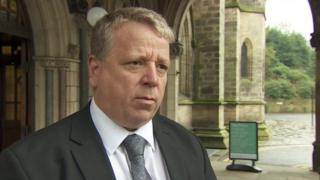 Eight people have been arrested as part of an investigation into child sexual exploitation in Greater Manchester.
Seven men and a boy, aged from 16 to 47 and of mixed ethnicity, were held on suspicion of conspiracy to commit sexual acts with a child after raids in Rochdale and Oldham.
Det Ch Insp Andy Aston said the raids followed allegations of grooming by two girls, aged 13 and 15, and a boy of 15.
The alleged abuse took place between 16 September and 17 October, he said.
He added that the raids followed a "swift investigation... which resulted in these arrests plus the safeguarding of three vulnerable children".
Paul Marshall, assistant director of children's services at Rochdale council, said: "I think people across the country should be concerned about the exploitation of children and I think that's why here in Rochdale we've done an awful lot of work in raising awareness and promoting that across children and young people."