Dad's Halo Effect: 'Globally admired' Ryan Gander work revealed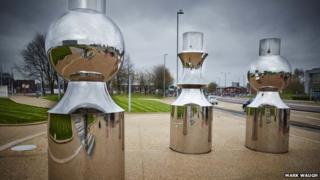 A "globally admired" piece of art has been unveiled in Manchester.
The public sculpture in Beswick, by artist Ryan Gander, is made up of three giant stainless steel chess pieces with no indication of which side they're on.
The 9ft (3m) work, entitled Dad's Halo Effect, shows "it's not the winning that's important, but the taking part", Manchester City Council said.
It follows an exhibition of the artist's work at Manchester Art Gallery over the summer.
The gallery's director Maria Balshaw said the Beswick work would "provide a source of inspiration for local residents of the area and visitors alike".
While the work represents chess pieces in a checkmate position, it is based on parts of the steering mechanism of a Bedford truck, which Gander was originally told about by his father who worked for General Motors.
The council spokesman said that provided "a link to the heavy industry past" of the Beswick area.
Councillor Rosa Battle said the work had been "much anticipated in the local community and discussion about the artwork has already been passionate, which is exactly the point".
"I would urge anyone, regardless of what you think about art, to come and have a look for yourself.
"What it looks like, how it makes you feel and what it means will be different for everyone who looks at it - and that's part of the beauty.
"Ryan has brought a globally-admired sculpture to our doorstep."
Gander has produced two other public works - The Happy Prince in New York's Central Park and More Really Shiny Things, which stands in London's Square Mile.