Deborah Hancox and John Leigh swindled £300k from NHS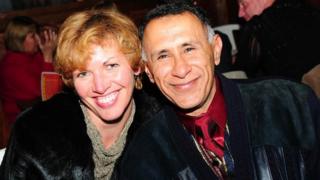 A couple, who swindled the NHS of at least £300,000 in an IT equipment scam, have been jailed.
NHS IT manager John Leigh, 54, ordered computer hardware at inflated prices from companies he and his partner Deborah Hancox had interests in.
The pair were extradited from Southern Cyprus last year after being named Most Wanted by the National Crime Agency.
Leigh was jailed for 44 months at Manchester Crown Court while Hancox, 45, received two years.
Leigh, of September Road, Anfield, Liverpool, and Hancox, 45, of Birchfield Drive, Marland, Rochdale admitted conspiracy to defraud and Leigh also admitted money laundering.
The court heard Leigh ordered equipment worth £1m over seven years with the couple pocketing £332,323.
But the prosecution also said this figure was the amount of money that could be traced and the real total was likely to be much higher.
Judge Michael Leeming said the NHS "could ill afford" to lose such money and Leigh was expected to act in its best interests.
He added: "This was deliberate, planned and persistent dishonesty involving a vulnerable target."
The couple fled to Northern Cyprus in 2008, where the UK does not have an extradition arrangement but were arrested last year when they crossed the border into southern Cyprus.
Mohammed Nawaz, representing Leigh, said his client had suffered a "crushing fall from grace".
Derek Johashen, representing Hancox, who also worked for the NHS, said she had no role in the NHS contracts but was ashamed at what had happened.
They had bought an apartment in Dubai, a new Jaguar convertible and a Mercedes. They also secured a mortgage on a cottage in Windermere in the Lake District, that was rented out as a holiday home.
The court was told the pair had lived a luxury lifestyle in Cyprus until they lost their money with the collapse of a Pakistani bank in 2010.
They had been reduced to "selling 'bric-a-brac'" and cleaning jobs.