Marple Aqueduct and lock 'unique' viewing opportunity offered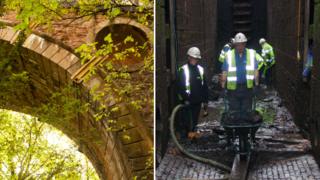 A unique chance to view inside the canal locks below England's highest aqueduct is available for the day.
Heritage charity The Canal and River Trust is hosting an open day on Sunday at the Marple Aqueduct and the 200-year-old Lock No 2, near Stockport.
It is one of 16 open days in England and Wales showcasing the trust's work during a £45m repair programme.
Visitors will get a chance to walk along the canal which has been drained of water for repairs.
A trust spokesman described it as a "once-in-a-generation opportunity to descend beneath the water line and take a behind-the-scenes look at these iconic waterway structures."
The repairs to the 315ft (96m) long, three-arch Marple Aqueduct are part of a wider £2.3m project called "Revealing Oldknow's Legacy", a joint venture between the trust and Mellor Archaeological Trust.
It aims to revive the legacy of Samuel Oldknow, one of the leading industrialists of the early cotton industry, by protecting and opening up three important historic sites: Marple Aqueduct, Mellor Mill and Marple Lime Kilns.
Oldknow was an 18th Century industrialist, who was the first successful maker of British muslin.
The event takes place between 09:30 and 15:30 GMT.