'Oldest' bed returns to Ordsall Hall in Salford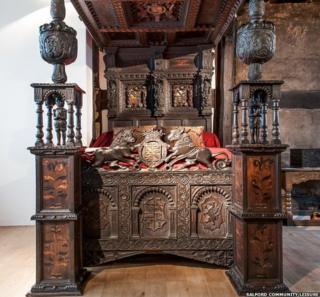 A 16th Century four poster bed thought to be one of the oldest in the UK has returned to its original home at a Grade I listed Tudor home in Salford.
The oak bed belonged to the Radclyffe family and went missing from Ordsall Hall after it was sold.
It was found at a house in the 1930s and was sold at auction in April for £65,000 to a private collector who outbid Ordsall Hall.
The bed has been loaned to the hall for five years and will be unveiled later.
'Rare bed'
After it was sold, Ordsall Hall curator Caroline Storr made a plea to the new owner Antoun Sehnaoui because of its history and the history of the family who had owned the hall.
Mr Sehnaoui said: "Following the emotional appeal from the curator at Ordsall Hall I have agreed to loan the bed so that everyone can see it."
It was the wedding bed for Sir John Radclyffe and Lady Anne Asshawe and dates back to the 1570s.
The bed is the only surviving piece of furniture from the hall, according to an Ordsall Hall spokeswoman.
She said the Radclyffe family were one of the most influential families in England who served Tudor kings and queens in civil and foreign wars.
Don Rainger, chairman of Ordsall Hall friends group, said: "The rare nature of the bed, coupled with the philanthropic aspect of the return is indeed cause for great civic pride."