Nuisance neighbours: John Leech MP calls for 24-hour hotline to deal with problem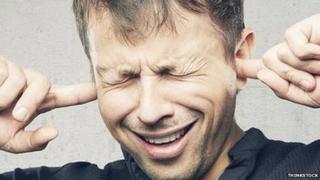 An MP is calling for a 24-hour hotline to be set up to deal with nuisance neighbours in south Manchester.
Leading a House of Commons debate on anti-social behaviour, Withington MP John Leech said many residents were "at the end of their tether".
The Liberal Democrat MP said despite legislation, the local council and police often feel "unable to intervene" when big parties get out of hand.
Mr Leech said the problem was worsened by "cheap supermarket alcohol".
Noise and the law
Councils can help to deal with pollution that amounts to a 'statutory nuisance' under the Environmental Protection Act 1990
Statutory nuisances include smoke, fumes and gases, insects, light and noise
There is no noise limit set for domestic properties, as noise is a subjective assessment
The first action a council will usually take is to send an informal letter and start accruing evidence
The next stage is taking the case to court, where fines can be handed out or equipment confiscation orders issued
Last month, a group of students in Fallowfield had their games console, DVD player and surround-sound speakers seized after weeks of complaints from other local residents.
The council said the students had "disregarded" a noise abatement order after holding gaming sessions at full volume in the early hours of the morning.
Mr Leech said: "It is really important that mixed communities in south Manchester live together in a safe, sustainable way, abiding by the same sets of rules.
"That means the police need the power to close down a party, whether it is a student party or not, if it is getting out of hand.
"A 24-hour hotline would allow quick action rather than action days or weeks later."
According to recent research by consumer organisation Which?, more than a quarter of adults in the UK have had a problem with a noisy neighbour.
Greater Manchester Police Ch Insp Steve McFarlane said: "I have personally seen the impact these parties are having on the local residents, in particular in Fallowfield and the level of noise and disturbance is unacceptable.
"Students must understand the effect these parties have on the local community as well as being aware of the potential serious criminal offences they could incur through attending these parties."
Loud voices and arguing topped the list of annoyances, with loud music, slamming doors and noisy pets also highlighted.