Museum of Science and Industry: Funding for new £3m exhibition space announced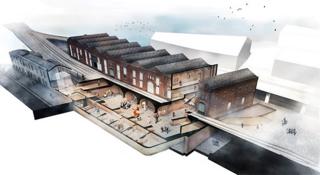 Manchester's Museum of Science and Industry (MOSI) is to get a new £3m temporary exhibition space.
The investment, announced by Chancellor George Osborne, allows MOSI to convert the vaulted basement of its railway warehouse into an exhibition venue.
Director Sally MacDonald said she hoped it would "further enhance the city's reputation for cutting-edge science".
Mr Osborne had already announced a new £235m science research centre for the city during his Autumn Statement.
The latest £3m investment was announced at the official launch of the European City of Science 2016 at the museum, attended by science and business figures in the city including Professor Brian Cox.
Ms MacDonald said she hoped the new space would help the museum deliver "innovative exhibitions".
"The government's invaluable financial support means we can do more to feed the enormous passion for science in the North West, serving our annual audience of more than 700,000 visitors," she added.
The £235m Sir Henry Royce Institute for Advanced Materials Research and Innovation was announced by the chancellor last Wednesday.
The centre, based at the University of Manchester, will build on advances made in developing materials like graphene, and include branches in Leeds, Liverpool, London, Cambridge, Oxford and Sheffield.