Inquest: Model Laura Pahomova died after escort secret revealed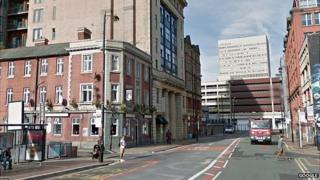 A Latvian model fell to her death from a Manchester apartment hotel after her ex-boyfriend told her family she was working as an escort, an inquest heard.
Laura Pahomova, 23, sent a final text message to her father before climbing over a balcony at the Light Boutique Aparthotel and falling.
Manchester Coroner's Court heard that her family had believed she was in England studying at university.
Coroner Nigel Meadows ruled that Miss Pahomova took her own life.
Miss Pahomova had embarked on an on-off relationship with Martin Riley, but later described him as a "stalker".
She had threatened suicide if her family found out what she was doing, but Mr Riley told police he had informed her loved ones in order to help her - evidence the court heard was "contradictory."
Mr Riley was initially arrested as a suspect after Miss Pahomova's death but no charges were brought due to "insufficient evidence".
However, the court heard he had been convicted of harassment before when in "completely similar circumstances" he met another escort, began a relationship, then contacted her family.
'Distressed and upset'
Mr Riley could not be located and summoned to attend the hearing, despite Mr Meadows employing a private investigator.
His mother, Janet Riley, when visited at her home in Blackley, Manchester, would only say he was out of the country, the court heard.
Miss Pahomova first came to the UK in 2008, working in a factory in Blackburn and also as a part-time model. She began her relationship with Mr Riley in 2011.
After a trip home she returned to the UK on 24 September 2012, six days before her death, telling family she was returning to her studies.
The next day Mr Riley used a false name to meet Miss Pahomova through an escort website, but she was "shocked and distressed" and told him to leave.
Two days later she booked into a room at the aparthotel, asking for an "elevated position".
The same day her family received an email from Mr Riley telling them she was not a student but working as an escort, including website details.
Her family, including her father Janis Vienters, then received a series of text messages from Miss Pahomova asking for forgiveness.
She was discovered dead at 11.30 BST on 30 September. No drugs or alcohol were present in her body.
Although Mr Riley had visited the apartment, she had been alone at the time.
Inside the apartment, she had written on mirrors, walls and furniture in lipstick and ink, blaming Mr Riley and apologising to her family, the inquest heard.
Concluding the hearing, Mr Meadows said: "For reasons only Mr Riley will know and understand, he decided to contact Mr Vienters and the family to make disclosures about Laura's lifestyle, when she clearly had not wished him to do that. She was obviously distressed and upset.
"The court does not deal with moral responsibility; those have to remain within the consciences of those involved."