A Life Less Lonely: John Amaechi felt 'isolated' as NBA star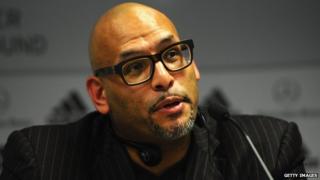 Once the best British basketball star in the world, John Amaechi spent years being paid millions to play the game he loved in front of his adoring fans in the United States.
And yet he says he felt "completely isolated" and "unconnected in any real way to the world" around him for many years.
Amaechi, who went from Heaton Moor in Stockport to playing for top clubs like Orlando Magic on a $10m (£6.38m) contract, told BBC Radio Manchester's Mike Sweeney he felt "disconnected" during his high-profile career.
"Trying to be the very best at something, in sports or anything else, does have an isolating impact," he said.
"You end up with this very adversarial view of the world, where most people are there to be pushed aside as you try and get to the top."
He believes most people will, at some point in their life, feel a "deep sense of loneliness" - a state of mind which can affect people of all ages and backgrounds and can happen to anyone at any time in their lives for many different reasons.
Meaningful connections
A BBC Radio 5 live poll on the subject suggests nearly three-in-ten British adults feel lonely at least some of the time.
But for those of us who are not elite-level athletes, Amaechi thinks exercise can be a very important tool to help lift people out of loneliness.
The former Stockport Grammar School pupil suggests doing group exercise with like-minded people can help develop a sense of connection with others.
"Finding yourself people to run with, even if their company is mostly as you run in near silence and at the beginning and the end you have conversations, there's a real depth of connection you can develop with that," he said.
The first NBA star to come out as gay, Amaechi said it is impossible to underestimate the importance of having somebody you can talk to openly.
His relationship with his two sisters gave him that necessary outlet to express himself in an uncensored and honest way.
"To be honest, I was very fortunate... I had two sisters who were just amazing.
"I was just so fortunate that I had those two touchstones, people with whom I could just be me. I could yell and scream and rant at the world, and cry - believe me there were many times of that.
"And they would always be there to reflect back the best possible me."
Anna Goodman from the Campaign to End Loneliness explained that loneliness is a "very personal, subjective experience".
"We'll all feel loneliness for different reasons. It's a very serious public health issue," she said.
The BBC is holding a special day of programming on Friday looking at the issue of loneliness in the UK.