Ched Evans: Opinions split as Oldham ponder deal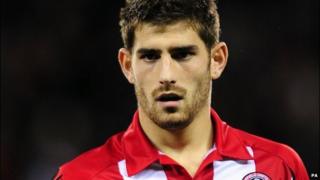 As Oldham Athletic ponder whether to pull a possible deal to sign convicted rapist Ched Evans, people from around the North West and beyond have been giving their views.
About 25,000 people have signed a petition criticising the move, while others believe he should not be denied the opportunity to resume his career.
Debbie Abrahams, MP for Oldham East and Saddleworth
I believe it would be wrong for Ched Evans to return to playing football for Oldham Athletic Football Club (OAFC), or any other club, as he has been convicted of rape, a violent crime for which he has neither apologised or acknowledged.
As he is claiming his innocence, and in the process of appealing against his conviction, both he, and the football clubs, should wait for the outcome of this process before even considering a return to the sport.
In view of this, although he has served his sentence, footballers are seen as role models by many and in my view it would send out an entirely inappropriate message to young fans and the victims of sex crimes for him to be signed by OAFC or anyone.
Former Oldham player Rick Holden
[Oldham] have a history of taking on these difficult challenges, given the Lee Hughes situation.
He committed a crime and did time. A very different crime, but it has always been that sort of club for some reason.
Paul Blackwell - has supported Oldham Athletic for 60 years
As a supporter now, you'll get labelled with favouring, or turning a blind eye to, what is actually a pretty serious crime. That's why I feel the shame.
My first match was March 1954 so there's a lot of water that's flowed under the bridge and, in the Big Dipper of life that is the lot of being a Latics fan, you think you've seen everything. This is a totally new one.
Professional Footballers' Association chief Gordon Taylor
We've made it clear in our statements that we feel he's been unable to say much because of the appeals process, but he has served his time and the job of society is to look to rehabilitate.
Sarah Green, from End Violence Against Women Coalition
Any club that would think about signing him really needs to think about the message they would send out to their own fans, who include survivors of sexual violence.
Oldham is a really local, family club, and should also think about the message they are sending to football fans around the country.
David Conn, sports writer for The Guardian
It looks, again, that another club thought, "what's all the fuss about, we need a striker, we want goals".
That is, ultimately, the ruthless priority of professional sport. They look at things financially, they look at surviving in their division.