Emma McGurrin, ex-Wigan councillor, jailed over fake childcare claims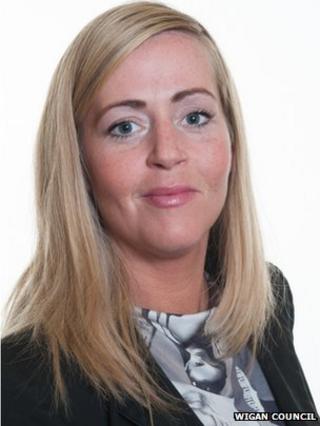 A Wigan councillor who falsely claimed almost £1,700 in childcare costs has been jailed for eight months for fraud.
Emma McGurrin, 36, made almost 50 bogus claims while working as the Standish with Langtree representative between September 2012 and February 2013.
Sentencing McGurrin at Liverpool Crown Court, Judge Andrew Menary QC said she was "thoroughly dishonest".
McGurrin was deselected by Labour and lost the ward at the 2014 elections after running for Wigan Real Labour.
McGurrin, who was elected to the ward in 2010, was entitled to a basic allowance of £11,682 with additional entitlements for other expenses, including childcare.
Her offences came to light when the woman she said she had used as a childminder was questioned by council officials over benefits payments.
She revealed she had been paid up to £40 a time to confirm some of McGurrin's claims.
'Straightforward fiddling'
McGurrin of Collett Close in Scholes, Wigan, who denied fraud, claimed senior council officials had known some of her claims were fraudulent.
Sentencing her for eight counts of fraud, Judge Menary said she had not been entitled to claim the payments, which totalled £1,693, as she had either not paid for childcare or her child had been in school.
There had been "nothing sophisticated" about the fraud, he said, which had been "straightforward fiddling of expenses".
As a result, McGurrin's "political career is now in ruins", he said.
"You will never be elected again in future and your chances of paid employment [have been] undermined by these dishonesty convictions."
Speaking after the case, a Wigan Council spokeswoman said councillors were expected "to be honest, respectful and live up to the trust placed in them by the electorate".
"Sadly, McGurrin chose to abuse her position of power and responsibility.
"The council hopes this sentence helps to restore people's faith in local democracy."