Manchester City Council offsets £59m cuts with airport dividend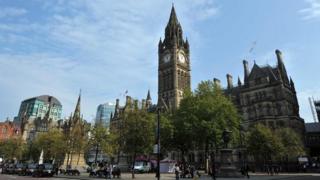 Manchester City Council will use a windfall from its Manchester Airport stake to reduce planned spending cuts.
The local authority plans to offset £59m of savings in 2015-16 with £9m of its £11m Manchester Airport dividend.
The move will mean fewer cuts to its Children and Families directorate, but about 600 posts will be axed.
The council holds a 35.5% share in the airport, which has recorded a rise in profits because of increased passenger numbers and commercial revenues.
The remaining £2m of this year's dividend will go towards the council's 2016-2017 budget.
'Extra money'
Sir Richard Leese, leader of the Labour-run council, said: "This is not a good news story - it's almost £50m of cuts in 2015-16 rather than almost £60m.
"The extra money through our stake in the airport has at least allowed us to look again at the budget options."
Announcing the budget proposals, he said £3.4m would help vulnerable children and families - areas of spending which faced the biggest cut.
The money from the dividend will also allow £400,000 will go towards city cleaning, £650,000 towards education and £200,000 to tackle noise nuisance and anti-social behaviour.
---
Manchester City Council plans also include:
Remodel the community grant scheme rather than ending grants for communities
Reducing advice services by £615,000 rather than £915,000
Maintain free swimming for under 16s and over 60s
School cross patrol cuts will be considered on a case-by-case basis, instead of cutting 40 of 95 patrols
---
A public consultation about the proposals ends on 18 February.
The airport is owned by the 10 local authorities in Greater Manchester - the other nine councils hold a 29% stake.
All shareholders profited during the interim unaudited results for the six months ending on 30 September.
Neil Thompson, chief financial officer of Manchester Airport Group - which runs the airport on behalf of the owners - said a payment of a £31m interim dividend was given to shareholders.