Stockport Hospital sorry for second-worst A&E record in England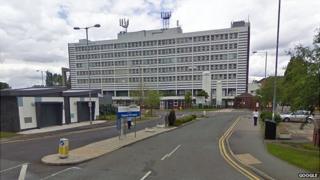 A hospital has apologised after huge delays in its A&E unit left it with the second worst record in England for patient waiting times.
NHS England figures show just 59.3% of patients at Stockport's Stepping Hill Hospital were seen within four hours last week - the target is 95%.
Only North Midlands NHS Trust had a worse record, with 59.1%.
A hospital spokesman said "every possible effort" was being made to improve the situation at Stepping Hill.
The latest figures were released in the wake of a number of hospitals declaring "major incidents" in recent weeks.
Nationally, the data for the week up to Sunday saw 86.7% of patients seen within four hours.
Stepping Hill hospital also had to cancel 17 planned operations.
Dr Mike Smith, chairman of the Patients Association and a doctor with 50 years' experience, said all hospitals were under pressure - but some were being managed more effectively than others.
He also said community health services, by not doing more to keep non-urgent cases away from A&E wards, must shoulder some of the blame.
"The chances are, that's what we're seeing here," he said.
"Management and leadership are abstract, and you know when it is there and when it is not.
"The management of this hospital should be saying 'we're the second worst in the country and something needs to be done'."
A spokesman for Stockport NHS Foundation Trust said: "Like other hospitals all over the country we have been experiencing significant pressures due to the number of acutely ill people arriving at our A&E.
"The issue at the moment is the high numbers of very poorly patients who need to be admitted and stay in hospital longer than would be normal.
"We know that long waits in A&E are hugely distressing for patients, and we apologise for this, but our main priority is patient safety.
"We hope people understand that we have to prioritise and treat the most urgent cases first."