Parkinson's Disease: Oldham man recalls diagnosis at 23 and life with the disease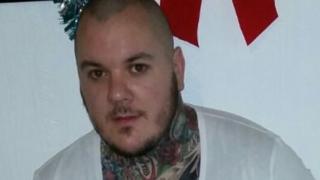 BBC Radio Manchester is taking a journey across Greater Manchester's 10 boroughs to meet some of the most inspiring people who live in the region. Here is the latest in the series:
Shaun Slicker was 23 when he first noticed his foot sometimes twitching uncontrollably, and it did not take doctors long to establish the cause.
Parkinson's Disease.
And while it is mainly a condition which affects older people, about 500 people under the age of 40 are diagnosed with it each year in the United Kingdom.
The diagnosis came as a huge shock to Shaun, who said he thought it was either just a "trapped nerve from playing rugby" or a sign that he was drinking too much alcohol.
---
Parkinson's Disease
* affects one in 500 people in the UK
* Only one in 20 of the 10,000 diagnosed each year are under 40 years-old.
* Main symptoms include tremors, slowness of movement, and stiffness
* Other physical symptoms include bladder and bowel problems, eye problems, falls and dizziness, fatigue, speech and communication problems
For more information please visit: http://www.parkinsons.org.uk/
---
Being told he had an incurable disease was certainly a sobering experience for the self-confessed "bad boy" who said he "used to go to town and end up fighting and didn't really give a toss about anything".
Now 28, the father of three from Oldham says he is a changed man: "I've had to grow up".
Shaun says he wakes up every morning and thinks: "I've got Parkinson's, but it could have been something worse."
While he cannot work because of the disease, Shaun says he tries to keep himself as busy as possible so "that it's not on my mind all day".
He knows the outlook for Parkinson's Disease patients is bleak, but says he is trying to remain positive.
"When that time comes that I can't really do anything, that's when I'll stop smiling".
Until then, he wants to raise awareness about his condition and to share his experiences, partly to help those in the same position.
You can hear the Tales of the Ten on BBC Radio Manchester each weekday until Friday, 23 January
Monday, 12 January: Coping with Jack's diagnosis (Wigan)
Tuesday, 13 January: Hitting rock bottom (Stockport)