Vinny Derrick: Widow Vikki fought to change missing person's law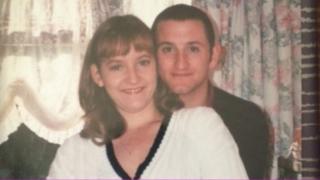 BBC Radio Manchester is taking a journey across Greater Manchester's 10 boroughs to meet some of the most inspiring people who live in the region. Here is the latest in the series:
Vinny Derrick went on a night out with friends from work but never returned home to his wife Vikki and their little boy, Louis.
Despite the biggest missing persons search in the history of Greater Manchester Police, and a nationwide appeal, Vikki had to wait nearly nine years for an answer about what had happened to her husband.
When the 29-year-old Manchester Airport worker from Partington, Trafford's body was eventually discovered in February 2012, under an M60 flyover in Cheadle, Vikki said it was a bittersweet moment.
"We were obviously devastated but relieved that we could all say a proper goodbye," the now 36-year-old said.
At the subsequent inquest, coroner Joanne Kearsley returned a narrative verdict, saying he fell to his death from the motorway viaduct.
Campaign
Vikki had met Vinny, who was originally from Leicestershire, while on holiday in Ibiza.
Despite falling out with each other at the end of the holiday, Vikki said: "Fate played a part in bringing us back together - Vinny's flight home was cancelled so were reunited at the airport."
They married in 2000 and were soon joined by Louis, who is now 14.
Vikki has successfully campaigned for a change in the law surrounding missing people. The 2013 Presumption of Death Act allows families to obtain a death certificate for their missing relative.
This is required for dealing with the missing person's estate.
While Vikki hopes it will help others in her situation, she knows it will never replace Vinny.
"I'd do anything to have my original life with Vinny back but this is something good to have come out of it."
You can hear the Tales of the Ten on BBC Radio Manchester each weekday until Friday, 23 January
Monday, 12 January: Coping with Jack's diagnosis (Wigan)
Tuesday, 13 January: Hitting rock bottom (Stockport)
Wednesday, 14 January: Living with Parkinson's Disease (Oldham)