Girl, 15, punched to ground in Salford and raped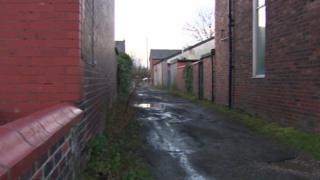 A 15-year-old girl has been raped after being punched to the ground in an alleyway in Salford.
The teenager was attacked while walking down the alley in Hilton Street near to Cleggs Lane in Little Hulton at about 22:00 GMT on Sunday.
Police said the girl suffered a "traumatic ordeal" and parents are being urged to make sure their children avoid shortcuts and stay in groups.
The man is said to be in his 40s and has a big build and a large belly.
Det Ch Insp Clare Devlin said: "I understand that the news a 15-year-old girl has been attacked and raped by a stranger will cause considerable unease and distress in this community.
"High-visibility patrols will be in the area both to provide a reassuring presence but also to help catch this man.
"In the interim, I would urge parents to advise their children to stick together, keep to well-lit areas and avoid taking shortcuts where possible."