'Craig would be flabbergasted'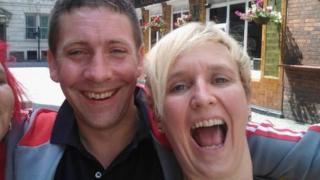 BBC Radio Manchester is taking a journey across Greater Manchester's 10 boroughs to meet some of the most inspiring people who live in the region. Here is the latest in the series:
Craig White lived and died on the streets of Cardiff.
The 37-year-old, who had been struggling with mental health problems, was left homeless after the breakdown of a relationship.
His older sister Risha Lancaster, who lives in Greater Manchester with her wife Fie, says she tried in vain to help him.
"He was my little brother - he had big dreams and then it all came crashing down," said the 45-year-old.
She said he received the dreadful news over the phone that "he'd died, on his own, sleeping in a car park".
After Craig's death in 2013 she decided to do something in his memory, and was horrified by what she found out.
"I discovered that there was a lack of support for people living on the streets of Manchester and Salford and knew I had to do something," she said.
'Flabbergasted'
This is how the Salford charity Coffee for Craig was founded.
Risha and Fie began handing out coffees to the homeless in Greater Manchester and South Wales and slowly realised there was a much bigger need than they'd originally imagined.
They now provide housing support, run coffee kitchens and help clothe people who have found themselves living on the streets.
"When we did our first street kitchen, people were waiting for us and clapped when we arrived. From there it exploded. We now do three a week," said Risha.
She believes if Craig could see what they'd done in his memory, "he'd be flabbergasted".
You can hear the Tales of the Ten on BBC Radio Manchester each weekday until Friday, 23 January
Monday, 12 January: Coping with Jack's diagnosis (Wigan)
Tuesday, 13 January: Hitting rock bottom (Stockport)
Wednesday, 14 January: Living with Parkinson's Disease (Oldham)
Thursday, 15 January: 'I waited nine years for answers' (Trafford)
Friday, 16 January: 'Cherish your precious moments' (Manchester)