'My family are really proud of me'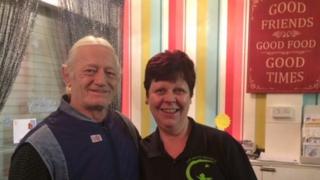 BBC Radio Manchester is taking a journey across Greater Manchester's 10 boroughs to meet some of the most inspiring people who live in the region. Here is the latest in the series:
Les Cracknell from Middleton says he has "chosen life not death".
He believes the Grim Reaper was rapidly approaching when he was drinking up to 12 litres (21 pints) of cider a day.
Largely giving up the booze "really was a life or death situation", says the 60-year-old former builder.
His alcoholism had got so bad that he barely left his house on the Langley Estate for two-and-a-half years.
Les said part of the reason for not seeking his help for nine years was because he thought there was nothing available due to government cuts.
He isn't sure how he went from builder to alcoholic but believes "it was killing time and killing me at the same time".
Relationships with his family broke down. "My children wouldn't like seeing me in that state," he said.
Things got even worse when he lost his job, he said. "To be unemployed means you have no respect for yourself, it degrades you."
'Reason to stay sober'
Les's turning point came with the arrival on his estate of the Angel Project charity.
The community cafe provides help for people like Les and he says it has changed his life immeasurably.
He says it has given him a reason to stay sober, and is doing all he can to help the charity grow.
Having regained his self-respect, and knowing that he's got something to focus on each day, he says his relationships have improved.
"I'm smiling every day now - my family are really proud of me.
"I've chosen life not death."
You can hear the Tales of the Ten on BBC Radio Manchester each weekday until Friday, 23 January
Monday, 12 January: Coping with Jack's diagnosis (Wigan)
Tuesday, 13 January: Hitting rock bottom (Stockport)
Wednesday, 14 January: Living with Parkinson's Disease (Oldham)
Thursday, 15 January: 'I waited nine years for answers' (Trafford)
Friday, 16 January: 'Cherish your precious moments' (Manchester)
Monday, 19 January: 'Craig would be flabbergasted' (Salford)