West Ham United footballer Ravel Morrison cleared of assault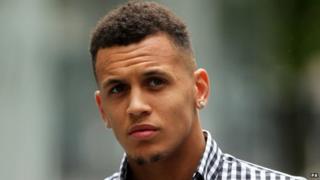 West Ham United footballer Ravel Morrison has been cleared of all charges of assaulting his former girlfriend and her mother.
The Crown Prosecution Service dropped the allegations after CCTV footage showed he had not hit Reah Mansoor, 19, outside a Manchester nightclub in July.
She also withdrew a claim that he attacked her outside her Salford home.
Her mother Parveen Mansoor was said to be "reluctant" to pursue the claim she was also assaulted by the 21-year-old.
In November, Mr Morrison, who is from Manchester, was cleared of threatening to throw acid in the face of his ex-girlfriend, have her killed and blow up her house.
At the time, the Crown Prosecution Service (CPS) also withdrew the allegation he harassed Miss Mansoor over four years.
Fell not assaulted
The player, who is back with West Ham after a loan spell with Cardiff City, was due to go on trial at Manchester Crown Court later this month on the remaining three charges of assault, which he denied.
Guy Mathieson, prosecuting, told the court the charges had been withdrawn after Morrison's defence team recovered footage of the first alleged assault outside the One Central nightclub.
It showed the footballer had not hit his ex-girlfriend despite her claim.
"She's seen falling, or slumping to the ground, remaining there for a minute or two before, quite clearly, the defendant and her friend come to her assistance, trying to get her to stand up."
She was then "put, bundled or half-carried into (Morrison's) car and she's then taken home", he added.
"It's quite clear from that CCTV footage there's no assault at that stage," he said.
Lazio rumour
The prosecutor told the court that, in light of the CCTV footage, the CPS were offering no evidence and no longer proceeding with the remaining allegations.
"Clearly Reah Mansoor's credibility, accuracy perhaps more appropriately, is somewhat called into question by the contents of the CCTV," he said.
Mr Morrison, who has four England Under-21 caps, played for Manchester United before former manager Sir Alex Ferguson sold him to West Ham for £650,000 in January 2012.
He was later loaned to Birmingham, Queens Park Rangers and Cardiff City and is reported to be on the verge of a move to Italian club Lazio.