Super Josh Wilson: Brain tumour charity continues as tribute to late Bury boy, 14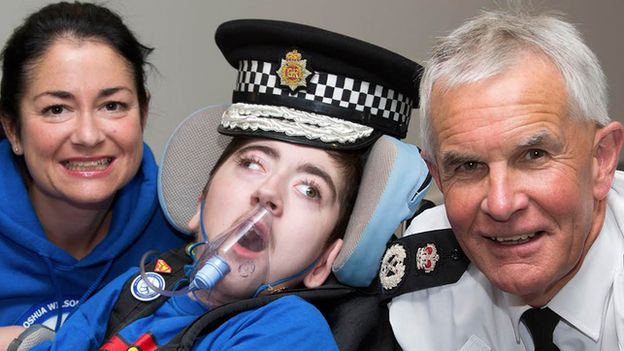 BBC Radio Manchester is taking a journey across Greater Manchester's 10 boroughs to meet some of the most inspiring people who live in the region. Here is the latest in the series:
Joshua Wilson may no longer be physically with us, but memories of the 14-year-old Bury boy will never die.
Widely known as "Super Josh", his mum Dawn Fidler said her son "never stopped smiling" and developed an incredible personality in the last two years of his life.
He had been diagnosed with a brain tumour when he was just three-and-a-half and was left with complex neurological disabilities following an operation to remove it.
Dawn says the charity work gave Josh a real purpose to "know he was helping other children".
Support poured in from across Greater Manchester and "Super Josh" became a local celebrity.
In November 2013, though, he became too poorly to continue going to school, making his fundraising even more important to him.
Despite being told the end was near, Josh battled away for another year before finally passing away in November 2014.
The end, Dawn says, typically came on his own terms.
"He just did a Josh and decided it was time to go. He had a Halloween party and that was that."
The grief of losing a young child is, thankfully, unimaginable to most of us.
Dawn is determined to focus her energies on continuing the amazing work started by Josh, who raised £120,000 before his death.
"He's still with me - some of the things that have happened, it's just Josh. It makes me giggle," she said.
The Chief Constable of Greater Manchester Police Sir Peter Fahy appeared in a Gangnam Style video to raise money for Josh's charity, while Salford City Reds captain Adrian Morely and Sacha Lorde from the Warehouse Project are also patrons.
Dawn says the "support is overwhelming. Everything continues to surprise me.
"I'm the proudest mum in the world. But then I'm not surprised. He inspired SO MANY people".
You can hear the Tales of the Ten on BBC Radio Manchester each weekday until Friday, 23 January