Stepping Hill murders accused nurse 'poisoned at random'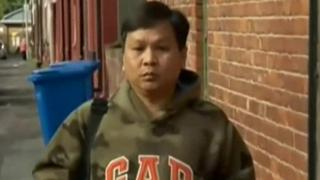 A nurse murdered three patients and poisoned 18 others by contaminating saline with insulin "completely at random", a court has heard.
Victorino Chua, 49, also altered prescribed dosages at Stockport's Stepping Hill Hospital, Manchester Crown Court heard.
Prosecutor Peter Wright QC said his actions made it a "lottery" as to who received contaminated products.
Mr Chua, of Heaton Norris, denies 36 charges, including three of murder.
The alleged offences against 21 patients are said to have taken place between June 2011 and January 2012.
'Common denominator'
Mr Chua, of Churchill Street, Heaton Norris, also faces one count of causing grievous bodily harm, 23 of attempted grievous bodily harm, eight of attempting to administer a poison and one of administering a poison.
Mr Wright said that following an investigation into the deaths of patients Tracey Arden, 44, Arnold Lancaster, 71, and Alfred Weaver, 83, and the poisoning of 18 other patients, the "pieces of the forensic jigsaw began to emerge".
"As the investigation intensified, the common denominator - the defendant - was shown in sharper and sharper relief," he said.
He said "motive for this course of conduct [was] difficult to determine with precision" and "only the person responsible could ever know why they would embark on such conduct".
However, he said it was the prosecution's job to prove Mr Chua was responsible, not to say exactly "what caused him to turn from a man who had dedicated his life to caring for others, to harming them".
Mr Wright told the court saline bags and ampoules were "contaminated with insulin to then be used by other unsuspecting doctors and nurses on innocent patients".
"In the vast majority of cases, the poisoner seems to have contaminated products or altered prescription dosages completely at random," he said.
"It was therefore a lottery as to who was treated with contaminated products and who was not."
Prescriptions 'crudely' altered
He said the poisonings began in the summer of 2011, when "someone was deliberately contaminating healthcare products" on wards A1 and A3.
The court heard 21 patients on the wards had "suffered in consequence of the poisoner's handiwork", resulting in three deaths and one "serious brain injury".
As concerns mounted, staff on ward A3 found a number of saline ampoules that had been injected with insulin using a hypodermic needle and left as "ticking time bombs", Mr Wright said.
He told the court only a small amount of insulin was needed to poison a patient and the discoveries caused an "understandable degree of panic" at the hospital.
Security was increased on the wards as a result, he continued, and staff were told to work in pairs, which led to the poisoner changing his methods and deliberately altering medical notes to increase patients' dosages of various drugs instead.
The prosecutor said some of the changes were made "crudely", with 30 being changed to 80 and the figure 1 becoming a number 7, and that while seven prescriptions were changed, only one patient was given an increased dosage before the tampering was noticed.
Mr Chua had been on duty when the notes were changed and his partial palm print had been found on one of the altered prescriptions, he said.
The nurse had also had the opportunity to contaminate the products with insulin, he continued, before leaving them "ticking away" to be used "wholly innocently" by "unsuspecting" staff on patients who would then suffer hypoglycaemic episodes.
The jury heard the "preponderance" of such incidents, when blood sugar levels dropped dangerously low, seemed to follow Mr Chua between the wards.
Mr Wright said the nurse also deliberately falsified the medical notes of two patients to conceal hypoglycaemic episodes and in one case, the patient's real condition was only discovered after he had suffered a brain injury.
Mr Chua had also tried to give tablets to one patient to "stupefy" her while he altered the notes, but she refused to take them, the prosecutor said.
He told the jury the nurse had "the means and the know-how" to carry out the crimes, but added "so had many others".
"We say, when you draw all the strands of this case together, the conclusion you are driven to reach is that the person responsible for each of these matters is the defendant."
The trial, which is expected to last up to four months, continues.
The above evidence was heard before a jury which was subsequently discharged on Friday 23 January. The trial will restart on Monday 24 January before a new jury.