Sex chat Wigan councillor accused of 'vile' police comments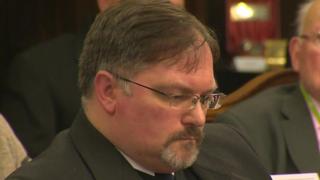 A Wigan councillor who spent thousands of pounds calling adult chat lines made a grossly offensive comment to police officers, it is claimed.
Wigan Council is investigating the allegation against Robert Bleakley by Greater Manchester Police (GMP).
Mr Bleakley denies making the comment, understood to relate to the murders of PCs Nicola Hughes and Fiona Bone.
Ch Supt Shaun Donnellan of GMP said the alleged comment was "vile" and described him as a "nasty man".
'Thoroughly unpleasant'
The Tyldsley councillor has already been criticised for refusing to step down from the council after running up a £2,500 bill on his work mobile calling sex chat lines.
He was also been banned from speaking to female council staff after he used his council-issued mobile to send explicit text messages.
The alleged comment was made on Friday when police officers visited the Wigan Independents councillor's house to investigate a harassment complaint he made against the BBC.
Ch Supt Shaun Donnellan has asked the authority to apply the strongest of sanctions to Mr Bleakley.
"He has abused his position and brought his office into disrepute," he said.
"His comments reveal him to be a thoroughly unpleasant and nasty character."
He added: "I have had to put in place special measures to ensure that other officers who may have to deal with Bleakley are sufficiently selected and protected."
'Bad behaviour'
The leader of Wigan Council Lord Peter Smith said he was "sickened" by the alleged comments "which, if proven, are unforgivable".
"He never seems to learn from his bad behaviour and his alleged actions highlight his complete disregard for the fantastic work that our police service does.
"We will ensure that this complaint is dealt with through our standards process and support the police with any further action they wish to take."
Mr Bleakley, who was branded the "most expensive" councillor in England by Lord Smith on Thursday, said he "categorically denies" making any such comments.
"The police did come to my house to take my complaints I made about harassment but at no point did I make any insulting comments... It seems like this is 'Get Councillor Bleakley' week."
PC Nicola Hughes, 23, and PC Fiona Bone, 32, were shot by Dale Cregan in 2012 when he lured them to a hoax burglary in Mottram.