Stepping Hill poison murders accused nurse 'a scapegoat'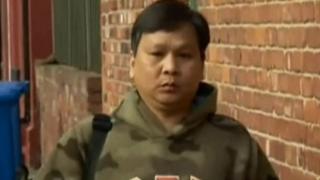 A nurse accused of killing three patients and poisoning 18 more at a Stockport hospital has been made a "scapegoat", a jury has been told.
Victorino Chua, 49, of Heaton Norris, denies 36 counts, including three of murder, at Manchester Crown Court.
Defending, Peter Griffiths QC said a "vast number" of police worked on the case, so someone must "carry the can".
However, he said Mr Chua was picked from "a huge number of potential people" to be a "scapegoat".
The prosecution has alleged Mr Chua poisoned patients by contaminating saline with insulin and altered prescribed dosages at Stockport's Stepping Hill Hospital.
The alleged offences against 21 patients are said to have taken place between June 2011 and January 2012.
Mr Chua is accused of murdering patients Tracey Arden, 44, Arnold Lancaster, 71, and Alfred Derek Weaver, 83.
He also faces one count of causing grievous bodily harm, 23 of attempted grievous bodily harm, eight of attempting to administer a poison and one of administering a poison.
'Matter of conjecture'
Addressing the jury, Mr Griffiths said the judge Mr Justice Openshaw had allowed him the "quite exceptional" step of speaking before any evidence was heard so he could point out the "real issues" in the case.
He said whoever carried out the crimes was "a matter of conjecture" and the case against Mr Chua was "circumstantial", adding "we have no idea who has committed some poisonings and some alterations".
A "vast number of officers" had investigated the case, he said, and "huge resources" had been used.
"Could they end up at the end of the day with 'I don't know who did it'? Somebody has to carry the can."
He said Mr Chua denied all the charges and simply "had the misfortune of being on duty in January 2012 when various alterations were found to have been carried out... so the finger of suspicion goes on to him".
"He gets arrested, he's literally on bail for a couple of years, then they decide to charge him and he ends up here."
He said he would call medical experts who would say that, in 15 of the cases involved, it could not be proved it was insulin poisoning and not natural causes that led to the patients suffering a hypoglycemic episode.
In the remaining six cases, he continued, the jury would "probably" be sure insulin did cause the episodes, when blood sugar levels dropped dangerously low, but that it was not Mr Chua who was the poisoner.
Addressing the accusation that the nurse altered medical notes, Mr Griffiths said no-one saw the alterations being made and "many others" had the opportunity to alter them on the "immensely busy" wards.
He also said that the prosecution's link between the poisoning in the summer of 2011 and note-tampering in January 2012 was unsound.
If it was proved to not be linked, he said, it would make the prosecution case "like a ship that's been holed".
The case continues.
The above evidence was heard before a jury which was subsequently discharged on Friday 23 January. The trial will restart on Monday 24 January before a new jury.