Tram-train plan revealed by Stockport Council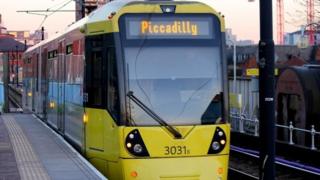 A plan to run trams on railway lines in an area of Greater Manchester has been revealed.
Stockport Council has published a report for a tram-train route to be adopted to connect the Metrolink network to the town centre.
Carriages would operate on both tram tracks and existing railways using tram-train technology from Manchester Piccadilly to Marple via Stockport.
Transport for Greater Manchester (TfGM) said it would "feed into its plans".
In 2013, a TfGM feasibility study found Manchester to Marple via Bredbury was the most economically viable route for a tram-train line.
The council said having a Metrolink service to Stockport town centre would "transform connectivity to key employment communities" and reduce congestion on the roads.
Deputy Leader Iain Roberts said: "It is important we continue to work closely with our partners such as Transport for Greater Manchester to develop these plans now to ensure that we can move our aspirations forward in the future."
---
Other tram-train routes proposed in 2013 were:
Manchester - Glossop
Manchester - Atherton - Wigan
Manchester - Sale - Altrincham - Hale/Knutsford
Manchester - East Didsbury - Hazel Grove
Stockport - Altrincham
---
Councillor Andrew Fender, chairman of the TfGM committee, said: "At this point, tram-train is one of the longer-term projects for Greater Manchester and it is something we will continue to support as strongly as we can.
"This very useful report from Stockport Council will feed into our future plans and inform our ongoing engagement with Rail North."
A tram-train system will trialled in Sheffield after being commissioned by the Department for Transport for a nationwide roll-out.
The pilot is expected to start next year.