Greater Manchester interim mayor to start role in June, says Wigan Council leader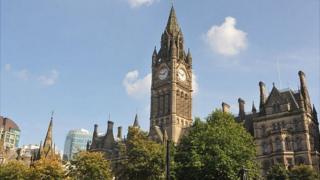 Greater Manchester will have an interim mayor from June as part of the government's devolution plans, said Wigan Council leader Lord Peter Smith.
The temporary mayor will be chosen by the region's existing council leaders to do the job until a 2017 election.
It means the government will transfer control of some of the promised £2bn of budgets to local politicians this year.
BBC News understands that Lord Smith and Police and Crime Commissioner Tony Lloyd are contenders for the role.
Lord Smith, who also leads the Greater Manchester Combined Authority, said it was an "important position".
He told BBC Radio Manchester: "If we are going to achieve the devolution that we all think is important for Greater Manchester, then this is a post that is going to kick that forward."
It is expected that candidates will have to apply within the next month before facing two question-and-answer sessions - one with councillors and another with representatives from education, health and the Local Enterprise Partnership.
Analysis
Kevin Fitzpatrick, BBC Radio Manchester
Giving local politicians the ability to decide on transport and big planning issues requires parliamentary legislation and an elected mayor.
That will take two years to sort out, so the government says if Greater Manchester appoints a temporary figurehead in the meantime, then control of some budgets - including for housing and skills - can be handed over immediately.
Because candidates must already have an elected position in the area, the government says the interim mayor will be democratically accountable.
Leaders are conscious, however, that the public may feel differently. They believe the selection process has to be transparent so the candidates are being lined up for two question-and-answer sessions in the coming months.
Ultimately though, the interim will be a Labour politician because eight of the 10 council leaders are members of that party.
Any publicly elected official can put their name forward but my understanding is that, at this stage, only Wigan leader Lord Peter Smith and Police and Crime Commissioner Tony Lloyd are in the running.
Chancellor George Osborne said it was "a massive moment for the north of England" when he announced last November that Greater Manchester would get an elected mayor.
The region's 10 councils currently control £5bn of public money each year but the new deal would give them a further £2bn.
The mayor will oversee policies such as transport, social care and housing as well as police budgets.
The announcement comes three years after people in the city of Manchester voted against having an elected mayor.
However last year's Scottish referendum ignited debate as to whether other parts of the UK should have more say on their future.
Greater Manchester
Metropolitan area formed in 1974
Made up of 10 councils: Manchester, Salford, Bolton, Bury, Oldham, Rochdale, Stockport, Tameside, Trafford, Wigan
Population is about 2.7 million
Covers an area of about 500 sq miles
Has an economy bigger than Wales or Northern Ireland
Designated a City Region in 2011 when the Greater Manchester Combined Authority was established