Ramsbottom Railway Club creates replica rail system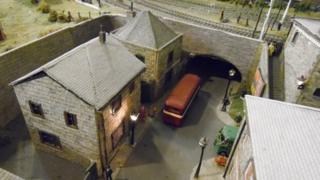 Taking a visit to Ramsbottom Model Railway Club is like taking a step back in time. For 37 years, members have lovingly recreated the town's railway system as it was in 1945.
Started in 1978 by four postmen, the club has seen its layout grow to 35ft (10.6m) by 16ft (5m).
It includes Nuttall Park, Ramsbottom town centre, railway station and Stubbins Station.
Secretary Danny Jones, 30, said: "The layout is actually older than me."
Over the years, members have used old photographs to recreate the town's past.
"One of our best features has to be the working level crossing gates," said Mr Jones.
"They are worked by a 1960s Meccano set connected to a motor. On the odd occasion, we have destroyed the gates... with a train passing non stop through Ramsbottom."
"We also have lights in 99% of the buildings and five smoking chimneys.
"When you have the chimneys working they also create a smog over Ramsbottom."
The Ramsbottom Model Railway Club meets at a former Sunday School building in Bury New Road, which they bought following a fundraising effort.
The club built an extension six years ago to include more of the cricket club, paper mill, Kenyon Street, Harrison Street and Soap Works.