Fred Talbot left job 'over inappropriate comment to boys'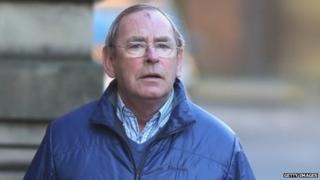 Ex-TV weatherman Fred Talbot has told a court he resigned from a teaching job because of a "joke" he made to teenage boys who stayed overnight at his home.
Letting the boys sleep in his bed, he said he joked "make sure you leave room for me in the middle".
Mr Talbot told Manchester's Minshull Street Crown Court it led to his resignation from Altrincham Grammar School in 1984.
The 65-year-old denies ten historical counts of indecent assault.
The charges relate to five schoolboys between the late 1960s and the early 1980s, during his former career as a teacher.
'World collapsed'
He told his trial his comment to the boys was "the worst 10 seconds of my life" and he did not know why he said it.
"It was said as a joke. That was when my world came crashing down," he said.
"I can't tell you how low I went. My world had collapsed through my own stupidity. I loved teaching."
Recalling the evening, he said about 14 fourth-year pupils came to his house to use his telescope during an astronomy session, along with three or four sixth-formers.
He said he got the impression that two of the boys were "an item" and he initially offered them the use of his spare room.
He denied that he offered to perform oral sex on one of the boys or that he had a conversation of a sexual nature with him.
Suzanne Goddard QC, defending, asked him: "Did you become aware that the boys had said something had happened?"
'Bit to drink'
Mr Talbot, giving evidence less than 24 hours after he was injured in a fall from the witness box, said: "Yes, they said I said something inappropriate. It was more than inappropriate, it was a proposition."
Days later he said he went into the head teacher's office and immediately resigned.
In court, he was asked about a diary entry he made relating to the astronomy session in which he wrote: "As usual I had quite a bit to drink. As usual I tried. I must be mad."
Mr Talbot said: "There was a sixth former there I liked. Upper sixth."
His barrister then asked him about a 1995 entry in which he wrote: "I had a dreadful night. I always feared this would happen."
Mr Talbot told the jury that it involved a News Of The World newspaper reporter who confronted him with the details of his resignation.
No article was published on that subject but instead the tabloid reported he had come out as gay, the court heard.
The jury has heard police called at Mr Talbot's home in 1992 after one of the complainants in the current investigation first alleged he had been sexually abused by him.
Asked why he had not admitted to the paper a complaint had been made about him, he replied: "I thought it was not in my interests to tell them that."
Miss Goddard asked: "Was that because you had ever tried to sexually abuse any of your pupils?"
He said: "No, I did not try to abuse them. I said something stupid, that was it."
Mr Talbot had earlier told the court how he had sexual activity with one of his alleged victims, saying the boy was 16 and it was consensual.
He also said claims by Stone Roses singer Ian Brown - one of his former pupils - that children were told to masturbate for homework were "utter rubbish".
Mr Talbot is best known for presenting the weather forecast on a floating map in Liverpool's Albert Dock for ITV's This Morning programme.
The trial continues.