Fred Talbot: Teacher-pupil sex law 'not good'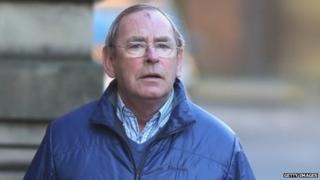 Former TV weather presenter Fred Talbot has criticised a law preventing teachers from having physical relationships with pupils, telling his trial "people fall in love".
The former teacher denies 10 counts of indecent assault against schoolboys.
Mr Talbot was asked if he thought a law preventing teachers and pupils under 18 having sexual contact was a "good law".
He replied: "No. A very good friend of mine, she was 20 years younger and he was her English teacher."
The 65-year-old, of Bowdon, Greater Manchester, was being cross-examined by prosecutor Neil Usher at Manchester Minshull Street Crown Court.
'A bit confused'
The former biology teacher is alleged to have sexually abused four ex-pupils at Altrincham Grammar School and a fifth schoolboy in the Newcastle area between the late 1960s and early 1980s.
One of the complainants is said to have gone to the police on four occasions to report Mr Talbot since 1992, before detectives contacted him as part of the current investigation, the court heard.
Mr Usher put it to Mr Talbot: "Five times over the course of three decades, he was desperate for the police to take him seriously. Why was he insistent?"
Mr Talbot, 65, replied: "I have no idea."
Mr Usher said: "In reality, your case is he is lying?"
Mr Talbot said: "I would never accuse someone of lying. That is a strong word. He was a bit confused."
Mr Usher said: "He is a bit confused that you masturbated him and he masturbated you?"
Mr Talbot said: "It did not happen."
'Must be mad'
Mr Talbot is best known for presenting the weather forecast on a floating map in Liverpool's Albert Dock for ITV's This Morning programme.
The prosecutor said one of the complainants had twice confided to medical professionals that Mr Talbot had abused him as a child, saying that seeing him on television "brought a lot of trauma back when I saw him".
The prosecutor said: "You could not help yourself in that when you had a drink you gave in to temptation and you tried it on sexually with teenage boys in your care?"
Mr Talbot said: "No."
The jury was reminded of a diary entry Mr Talbot admitted he made in reference to sexual advances he made towards an Altrincham Grammar School sixth form pupil at his home.
He wrote: "As usual I had quite a bit to drink and as usual I tried. I must be mad."
Mr Talbot told the court: "I tried it on with him, chatting him up."
His defence barrister Suzanne Goddard QC asked whether he thought it would be wrong for a teacher in 2015 to have any sexual contact with a 16-year-old or 17-year-old pupil on a trip.
Mr Talbot replied: "In the present climate, no. You can't even put a sticking plaster on."
The trial is scheduled to continue on Monday.