Fred Talbot: TV weatherman hid history of child abuse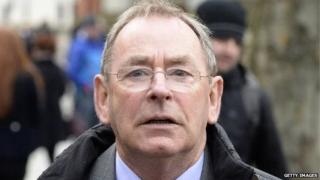 Former television presenter Fred Talbot found fame aboard a floating weather map in Liverpool's Albert Dock, but behind his quirky on-screen persona a history of child abuse lay hidden.
The 65-year-old, who has been found guilty of indecently assaulting two teenage boys, trained as a biology teacher in the 1960s.
During his trial Talbot claimed he left teaching to pursue a media career, eventually becoming the light-hearted weatherman seen on ITV's This Morning programme.
But the real reason was more sinister. Manchester's Minshull Street Crown Court heard he had resigned from his job at Altrincham Grammar School after propositioning two schoolboys during an astronomy session at his home.
Offering to let two boys sleep in his bed, he told them "make sure you leave room for me in the middle". The boys later complained.
Talbot dismissed it as a "joke" but there were other incidents.
After a three-week trial, the jury convicted Talbot of indecently assaulting two former Altrincham Grammar schoolboys during school trips between 1975 and 1976. Both boys are thought to have been 14 at the time.
He was cleared of eight other charges of indecent assault.
During one school trip in the 1970s, Talbot was said to have staged a naked orgy involving 10 drunken schoolboys on a canal barge, before sexually abusing one of them on board.
He had asked some of the pupils to pretend they were girls and lie on top of each other as photographs were taken, it was claimed.
The prosecution claimed he recorded the abusive encounters in subtle diary entries, later seized by police.
His memoirs, the prosecution maintained, portrayed a man "obsessed with teenage boys".
One entry, from 1984, read: "As usual I had quite a bit to drink and as usual I tried. I must be mad."
In another, Talbot, of Bowdon, Greater Manchester, wrote: "You have messed it up. You have no right. You are in the wrong. Each individual has rights that cannot be infringed.
"You are in a position of influence. Let there be no tears shed."
Throughout his trial, Talbot claimed the former Altrincham Grammar School pupils' accounts were simply made up.
He did admit to having a sexual relationship with a teenager in Gateshead, after meeting him during his time at teacher training college.
However, he claimed this encounter happened when the boy was older than 16 rather than 14 as alleged, and he was cleared of indecently assaulting this complainant.
At one stage, Talbot even criticised laws preventing teachers having sexual contact with pupils, telling the court "people fall in love".
But the jury heard how one victim had been deeply affected by the abuse, and had twice confided to medical professionals that Talbot had abused him as a child.
He said that seeing him on television "brought a lot of trauma back".
'Feared this would happen'
Stone Roses singer Ian Brown, a former pupil of Talbot's, painted a disturbing picture in court of a teacher who would encourage children to masturbate and once showed a class what he later realised was "probably a gay porn film".
Talbot seemed to sense his crimes would eventually catch up with him, telling the court how he was confronted in 1995 by a News of the World journalist with the details of his resignation from the school.
He wrote in a diary: "I had a dreadful night. I always feared this would happen."
He was also spoken to by police in 1992 in connection with the allegations, although no further action was taken at the time.
Now, more than three decades after his last attack, he is facing a lengthy jail sentence.
Speaking after Talbot's conviction, his agent Dave Warwick, said: "It's a bit of shock to me that this has happened, but it has happened and he will just have to move on in which ever way he can cope.
"I still think that there are people around him who will help him through this and stand by him."