Dropped cigarette ends up costing Manchester man £420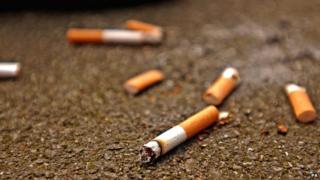 Dropping a cigarette butt has ended up costing a Manchester man a total of £420 in fines and costs.
Christopher Lear, of Carisbrook Street, Harpurhey was seen dropping it by a council officer last July.
Manchester City Council said it took him to court after he didn't pay an on-the-spot fine of £80.
After failing to appear before magistrates, the 34-year-old was fined £160 and ordered to pay costs of £260.
New bins
Manchester City Council officers can hand out on-the-spot £80 fines to anyone they spot dropping litter.
The local authority said offenders who refuse to pay can be taken to court.
It installed nearly 700 new litter bins in Manchester city centre last year as part of an anti-littering campaign.
Council deputy leader Bernard Priest said: "This prosecution shows that we are extremely serious in tackling the issue of littering in Manchester.
"There is no excuse for this individual to drop his cigarette butt on the street when there are bins with an external ashtray nearby."