Wood End abuse probe: Wigan Council issues apology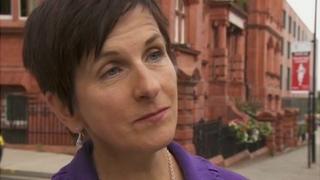 The chief executive of Wigan Council has apologised to former residents of a now closed children's home which is at the centre of an abuse investigation.
Police are examining more than 40 complaints of historical physical and sexual abuse at Wood End Assessment Centre in Atherton.
Hundreds of boys were sent to the centre between the 1970s and 1990.
Donna Hall offered her "profuse apologies" and said Wigan council was co-operating with the police probe.
She said: "I can understand how angry people are. I've met some of these people first hand and seen the affect on them.
"We closed the place down, people were sacked and we involved the police at every stage.
"Other than that, all we can do is apologise."
Wood End was opened by Lancashire County Council in 1969 as a remand home for boys aged between 10 and 17.
In 1974, Wigan Council took over the home, which housed boys on remand as well as those deemed at risk of potential criminal behaviour.
Many sent there were from dysfunctional families or in the care of social services.
Among the alleged victims, Manchester poet Lemn Sissay said he was "strip searched, physically abused and manhandled" during his time at Wood End in 1984.
The centre was closed in 1990 and three police investigations have taken place, but no-one has been arrested or convicted.
Most recently, Greater Manchester Police has launched Operation Milan to investigate the complaints.
Two people have been interviewed under caution, with another three due to be questioned.
Ms Hall said: "It was a dreadful place. What we need to do is arrest somebody and convict somebody and hold them to account."