Withington Baths campaign: Group wins fight to run pool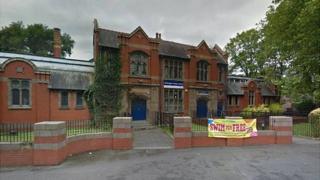 A community group has won the right to run a much-loved Manchester swimming pool that was earmarked for closure.
Withington Baths was among several pools set to close this year as part of plans to help save £80m from Manchester City Council's budget.
The Love Withington Baths group started a campaign to save the 104-year-old Edwardian baths.
The group has now had its business plan approved by the council.
The local residents are working on an agreement to lease the building for the next two years.
Group chairman Paul Smith said: "We are dedicated to build upon the legacy of this wonderful pool and create an even more exciting future for this building, which has more than proven its place in local hearts."
The residents, who staged a large protest against the closure plans in 2013, are hoping to begin running the leisure centre by the start of the summer.