Stepping Hill deaths: Ward was 'chaos' as patients fell ill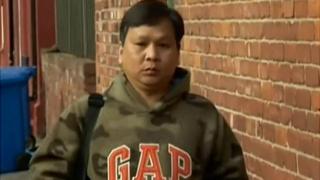 A ward at a Greater Manchester hospital was in "chaos" as the blood sugar levels of four patients dropped to dangerously low levels, the trial of a nurse heard.
Victorino Chua, 49, denies murdering three patients and poisoning 18 others at Stepping Hill Hospital, Stockport.
He is alleged to have killed his victims by secretly injecting insulin into saline bags.
Manchester Crown Court heard a sister on duty knew "something was not right".
On the night of 10 July 2011 Mr Chua was working as a nurse on a men's ward at the hospital.
The court heard it was a very busy night shift as four patients suffered unexpected hypoglycaemic episodes that night - when blood sugar levels drop dangerously low - as did a further patient the next day.
A statement by nursing sister Susan Brown said the ward was in "chaos".
"I remember doctors wondering if the monitoring equipment was faulty, but I knew the patients were showing symptoms too.
"I knew something was not right. It happened one thing after another. The doctors couldn't keep up".
Levels dropped
Two patients who suffered hypoglycaemic incidents that night, Arnold Lancaster and Alfred Weaver - known as Derek - died at a later date, the court heard.
Two others recovered but a fifth patient, Grant Misell, 41, from Cheadle Hulme, suffered brain damage, after developing similar symptoms later that day.
Mr Chua, of Churchill Street, Heaton Norris, Stockport, is accused of killing Tracey Arden, 44, Arnold Lancaster, 71, and Alfred Weaver, 83 at Stepping Hill.
Mr Weaver had been admitted to the hospital with breathing difficulties earlier that day.
The court heard he had a number of age-related heart and lung problems but was not diabetic and had never suffered from hypoglycaemia before.
That night, after being given intravenous fluids his blood sugar levels dropped from a relatively normal level of 6.1 to 1.1.
Mr Chua has pleaded not guilty to 37 charges in all, including 25 counts of attempted grievous bodily harm with intent, eight counts of attempting to administer poison and one count of administering poison.
The alleged offences happened between June 2011 and January 2012.
The trial continues.