Stepping Hill deaths: Victorino Chua 'a very good nurse'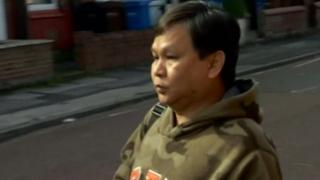 A nurse accused of murdering patients was being bullied at the Greater Manchester hospital where he worked, a former colleague told a court.
Victorino Chua was a "very good nurse" but did not get on with some colleagues at Stepping Hill Hospital in Stockport, Manchester Crown Court heard.
The 49-year-old is accused of murdering three patients and poisoning 18 others by secretly injecting insulin into saline bags between 2011 and 2012.
He denies all the charges.
The jury was told about the death of Arnold Lancaster, 71, allegedly murdered by Mr Chua during a spate of five poisonings on the ward while he was working the nightshift of July 10 to 11, 2011.
Nurse Angela Bryant, who was working the day shift on July 10, admitted Mr Lancaster to ward A1 about 18:30 BST and the patient was described as "very, very unwell".
'Really gentle'
In a statement, she described Mr Chua as "a very good nurse, very caring and courteous" who was "very quiet, he was never one for rubbish chit-chat".
She said: "I'm aware there were rumours Vic was betting bullied on [ward] A3 by certain members of staff and wanted to move.
"I did not witness any bullying.
"His attitude is really good, really gentle. I have not seen him lose his temper with staff or patients. He's a good nurse."
According to the prosecution, Mr Lancaster, who was not diabetic, died as a result of insulin poisoning by Mr Chua.
The pensioner was suffering with cancer of the oesophagus and given palliative care after deciding against chemotherapy.
He had been admitted to Stepping Hill with fever and a high temperature following a fall and doctors suspected an infection.
Doctors discovered a tumour in the life-long smoker's throat and the cancer had spread.
His sister, Christine Lancaster, said the day after her brother was admitted to Stepping Hill Hospital the final time, she went to visit him.
Her statement ended: "I was met by a nurse and told to sit down. It was at that point a nurse told me Arnold had just died."
Mr Chua is also alleged to have murdered Tracey Arden, 44 and Derek Weaver, 83, along with poisoning other patients under his care through injecting insulin into saline bags that was then administered by "unsuspecting" co-workers.
Insulin can cause the body's blood sugar to drop to dangerously low levels, leading to coma, brain damage and even death, known as hypoglycaemic episodes.
Mr Chua has pleaded not guilty to 37 charges in all, including 25 counts of attempted grievous bodily harm with intent, eight counts of attempting to administer poison and one count of administering poison between June 2011 and January 2012.
The trial continues.