Thieves steal 10 tonnes of copper granules, worth £50,000, in Rochdale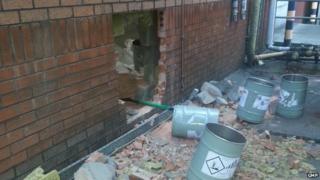 More than 10 tonnes of copper granules, worth about £50,000, have been stolen in two raids in Rochdale.
Thieves broke through gates and smashed a brick wall to gain access to the Buckley Road premises in the first raid at about 02:00 GMT on 9 February.
They shovelled nine tonnes of granules into 30 drums and escaped in a white van or dark coloured car, police said.
The gang returned overnight on 14 February to take another tonne of copper, again breaking through a wall.
PC Lorraine Norbury said the break-ins were "not opportunistic".
"These were executed after a great deal of pre-planning and organisation by a gang of professional criminals.
"They are obviously well aware that the granules could be lucrative if sold on the black market."
Photos of the drums have been released, which PC Norbury said would be "quite identifiable" due to each being stamped with a "unique batch number".
"In particular, I would urge scrap metal dealers not just in Rochdale but across Manchester to be vigilant and if you are offered copper granules in either these drums or in any other form, please contact the police immediately."