'Big player' in UK dog fighting jailed after RSPCA probe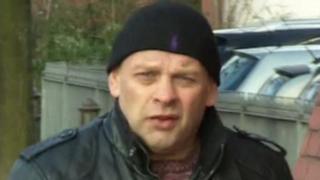 A dog breeder, thought to be a "big player" in British dog fighting, has been jailed and banned from keeping animals.
John Psaila, from Wigan in Greater Manchester, admitted 14 offences including training animals to fight and possessing equipment for fights.
The RSPCA described his home in Thornvale, Abram as a "training school" for fighting dogs.
Psaila, 49, was jailed for 121 days at Wigan and Leigh Magistrates' Court.
He was charged under the Animal Welfare Act 2006 and the Dangerous Dogs Act 1991.
The RSPCA launched an investigation after being tipped off that he was involved in organised dog fighting and an allegation he was preparing to take a dog to a fight.
Inspectors found two pit bull type dogs called Ziggy and Tip - and a treadmill on which to train them - after carrying out a warrant on 9 June 2014 at his address and at another property in Lowton Street, Radcliffe.
The RSPCA described his home as a "training school" for fighting dogs. Inspectors also found weighing scales, home veterinary kits with medication and muscle-building powder along with breaking sticks, which are used to separate dogs during a fight.
Tony Stock, prosecuting, told the court Psaila had been an active member of the dog-fighting fraternity, involved in highly organised fights.
'Strapped for cash'
Clare Parrott, defending, said Psaila had been breeding dogs for a long time but had only become involved in dog fighting because "times were hard" and he was "strapped for cash".
After Psaila was sentenced, RSPCA Ch Insp Ian Briggs said the man had "no regard for the dogs in his care - all he wanted out of those dogs was to boost his own ego and his own standing inside the dog-fighting fraternity by fighting them as much as he could."
He added: "John Psaila appears to be a big player in the dog fighting world, judging by the evidence we found during our investigation."
Mr Briggs said a growing number of cases were being reported to the RSPCA despite the fact dog fighting was outlawed 180 years ago.
He said those who organise and watch the fights have "an absolute twisted enjoyment in watching violence."
Mr Psaila was told he can appeal against his ban from keeping animals in 15 years' time.