River Goyt dog-rescue girl, 14, saved by firefighters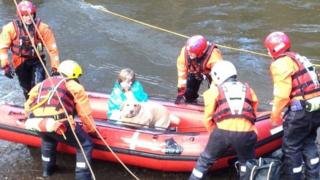 A girl who jumped into a river to rescue her pet dog was almost swept away herself, firefighters said.
The 14-year-old and her Labrador were swept onto an island in the River Goyt in Greater Manchester.
Firefighters found the pair when they were called to Brabyns Park in Marple at about 10:00 GMT.
Bob Pownell, of Greater Manchester Fire & Rescue Service, said the girl had been lucky not to be swept away after she jumped in.
Mr Pownell said dogs almost always manage to paddle over to a bank and escape from water.
"People on the other hand rarely make it out alive, especially at this time of year," he added.