Bolton chairman Phil Gartside in court over transfer row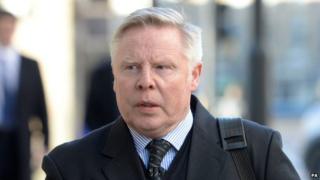 Bolton Wanderers chairman Phil Gartside and former manager Sammy Lee have appeared in court on charges stemming from a 2007 transfer deal dispute.
They are accused of perjury in a private prosecution brought by football agent Tony McGill, who claims he was cut out of a £1m deal which saw Gavin McCann move from Aston Villa.
Mr McCann and seven others from the football world have also been charged.
No pleas were entered in the hearing at Newcastle Magistrates' Court.
Mr McGill, from Sunderland, is also prosecuting Bolton Wanderers FC (BWFC) and the Sport and Entertainment Media Group which was founded by another football agent, Jerome Anderson.
Lisa Judge, representing Bolton Wanderers, said she would apply to have the case thrown out.
It has now been sent to Newcastle Crown Court to be heard in two weeks' time.
The defendants are:
Bolton Wanderers chairman Phil Gartside, 62, from Northwich in Cheshire, who faces five counts of perjury and one of fraud by false representation
Southampton and ex-England coach Sammy Lee, from Liverpool, who faces four counts of perjury
BWFC secretary Simon Marland, 55, from Chorley, Lancashire, who faces five counts of perjury and one of false representation
Brentford director of football Frank McParland, 55, from Warrington, who faces four counts of perjury
Former footballer Gavin McCann, from Lytham, Lancashire, who faces four counts of perjury and one of fraud by false representation
Football agent Jerome Anderson, 56, from London, who faces four counts of perjury and one of fraud by false representation
Lawyer Chris Farnell, 45, from Hale, Greater Manchester, who faces two counts of perjury
Agent Stephen Horner, 49, from Brindle, Lancashire, who faces two counts of perjury
Agent David Sheron, 62, from Rossett, North Wales, who faces four counts of perjury
Agent Jeffrey Weston, 61, from Mill Hill, London, who faces five counts of perjury and one of fraud by false representation