Hundreds in Manchester for EDL demonstration and counter-protest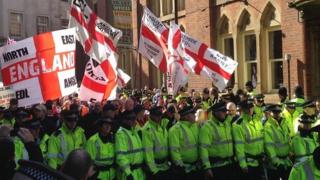 Hundreds of people gathered in Manchester for an English Defence League demonstration and a counter-protest by Unite Against Fascism.
Metal barriers were put in place in the city's Albert Square to separate protests. Police expected about 400 people to attend each demonstration.
Four arrests were made, Greater Manchester Police said.
Ahead of the protests, 35 local dignitaries signed a letter urging people to ignore EDL.
The EDL says it is protesting against militant Islam.