Trainee pharmacist jailed for filming himself raping toddler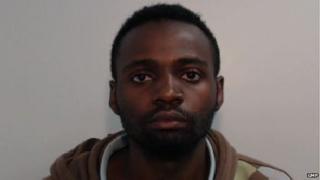 A trainee pharmacist who filmed himself raping a two-year-old girl has been jailed for 15 years.
Jeremy Oketch, of Alexandra Road South, Manchester, pleaded guilty at an earlier hearing after police found videos of him raping the toddler on two different dates.
The 35-year-old has been ordered by Manchester Crown Court to sign the sex offenders' register for life.
Det Ch Insp Colin Larkin said Oketch was "vile".
"The judge said the footage was exceptionally disturbing, horrific, graphic and grotesque and that nobody - not a member of the public, a police officer or a judge - should ever have to watch such material."
Oketch was arrested last July after police were alerted to a video showing the criminal raping the two-year-old at a house in south Manchester.
He was sentenced to eight years on licence in addition to 15 years in jail.
"I hope the length of his sentence, in some small way, gives those who know this little girl some semblance of justice seeing this dangerous man behind bars for such a long time," Det Ch Insp Larkin said.