Cheshire East Council launches energy company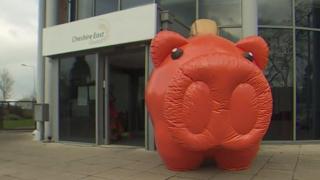 Cheshire East Council has become the UK's first local authority to offer electricity and gas to its residents since nationalisation just after World War Two, a spokesman said.
He said Fairerpower, run by the council and supplier OVO Energy, would offer residents energy at "great value".
Council leader Michael Jones said the move could "save most people money".
The electricity and gas industries were brought under government control in 1948 but were later privatised.
The company's offer is initially limited to domestic customers who want to pay by monthly direct debit.
'More choice'
It says it hopes to widen its service to pay-as-you-go customers and businesses by the summer.
Chancellor George Osborne, whose Tatton constituency mostly lies within the area, said he welcomed the partnership because "more choice for local people means competitive prices".
OVO Energy's founder Stephen Fitzpatrick said households in the area "could save around £300 a year by switching from a 'big six' energy company.
The company is due to launch a similar scheme in Southend, Essex later this year.