Lymm row over Netto store plans rather than 'upmarket' chain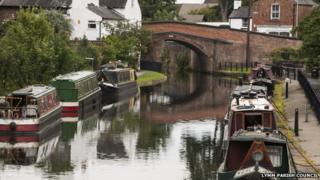 More than 300 people have signed a petition opposing plans for a Netto to open in their leafy Cheshire town as the discount store is not posh enough.
Lymm residents said Warrington Borough Council had "sold" them its proposals for an "upmarket supermarket".
The council said it was still awaiting consultation responses and "no final recommendation has been made".
Netto, meanwhile, claimed to be bringing a "new look" store to Lymm which would "surprise" residents.
Local business owner Joanne Hopkinson from the Terrace cafe said: "We were disappointed it was going to be a supermarket anyway as we feared its effect on the area.
"I suppose Netto would be one of the lower end supermarkets but I don't think people around here will shop there. They'll continue to shop in Knutsford or at the local smaller shops.
"I doubt it will take off. But I think the main hue and cry is we were told one thing and we have got something else."
In a statement Netto responded: "Our new stores are a complete departure from the format that left the UK market in 2010 - offering both outstanding value and great fresh food.
"We're confident that we'll surprise our new customers in Lymm and hope to replicate the success we've seen at our other UK sites."
A spokesperson from the council said it had approved a planning application to build a retail development on 19 September 2014.
She added: "A full application has since been submitted which the council is currently reviewing. A licensing application has also been received. Both of these documents are available to view on our website."
The chair of Lymm Parish Council, Catherine Buckley, said: "When this was in the planning we were ensured by the council it would be a high-end shop.
"There aren't any Netto stores around here so we didn't know what it was. I believe it is a Scandinavian low-end shop.
"I think it's the unknown quantity which has concerned people. Not many people here have been to a Netto. I haven't been in one.
"I think if it has been revamped and if this is a brand new launch we will have to wait and see what it is going to be like."