Council to discuss large funeral plans after traveller row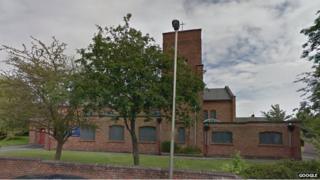 Councillors are to discuss how best to manage large-scale funerals after one for a traveller from Cheshire attracted hundreds of mourners.
Holy Trinity Church in Blacon and Chester Crematorium were packed for the service marking 54-year-old Elton man "Pudgie" Evans's life on 30 January.
Cheshire West and Chester Council and Cheshire Constabulary worked together to manage the funeral.
Local residents were advised beforehand and roads shut for the funeral cortege.
Temporary toilets were brought in and extra staff deployed to the crematorium.
Fire vigil
Traditionally traveller families light candles around the coffin as they believe it lights the way to the afterlife.
In very traditional families the caravan of the deceased would also be burned.
In Elton, the family kept a fire burning opposite the family home for 14 days. It was attended by a group of men who used a portable cabin for shelter.
Mr Evans was electrocuted while collecting scrap metal at a farm in Ince.
The report into the management of his funeral said the fire and gathering "affected local residents" and "emphasised existing local tensions".
It said the main lesson learned from Elton was "the need to respond and engage with the traveller family as soon as possible in order to minimise the effect on local residents".
The council's corporate scrutiny committee will discuss the management of the funeral and make recommendations for future large-scale funerals.
Issues to be raised include traffic management, parking, toilets, faith and cultural issues and potential for anti-social behaviour.