Wigan street named after VC winner Lt Col John Grimshaw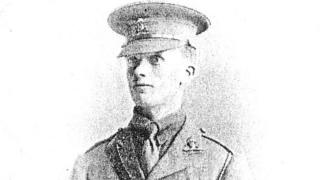 A new street has been named after a Wigan soldier who was awarded the Victoria Cross in World War One.
Lt Col John Elisha Grimshaw received Britain's highest award for bravery for his actions with the 1st Battalion Lancashire Fusiliers at Gallipoli in Turkey on 25 April 1915.
The battalion lost more than half of its men as they landed on the beach.
Grimshaw Park will serve a small housing development in Abram, close to where Lt Col Grimshaw was born in 1893.
His granddaughter Joan Ure said: "In many ways he was a most unlikely hero and certainly he didn't consider that he had been particularly brave.
'Six VCs before breakfast'
"He was a very young recruit during the Gallipoli conflict. In later years, I think that he reflected on the huge loss of so many young lives and it did cause him some sense of sadness."
Lt Col Grimshaw joined the Lancashire Fusiliers aged 19.
He was a 22-year-old signaller when he took part in the Gallipoli landings.
His job was to maintain contact between units on the ground and officers who were on a ship off the coast.
The British troops were met with very heavy fire and 533 out of 950 who attempted to land were killed.
Lt Col Grimshaw played a crucial role in capturing of the cliffs overlooking the beach.
In 1917, he was awarded the VC - along with five other soldiers from his battalion who received them between 1915 and 1917 - and they became known as the "Six VCs before breakfast".