Manchester crime gang suspects held over '£400,000 theft'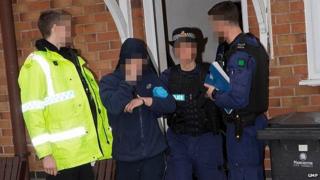 Thirteen suspected members of a Manchester gang responsible for the theft of "money and goods worth up to £400,000" have been arrested.
The 12 men and one woman were held over offences such as vehicle crimes, ram raids and burglaries after warrants were executed in the south of the city.
Cash, mobile phones and stolen property were also seized in the raids.
Police said the organised crime gang may have been responsible for up to 50 crimes between July and December 2014.
Det Sgt Alan Hamlin said: "As a result, many innocent people have fallen victim to this gang, losing not only money and goods worth up to £400,000 but also being put through huge emotional strain."
Three people "not directly connected" with the investigation into the gang were also arrested, a spokesman said.