Three flights diverted from Manchester Airport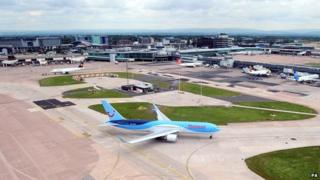 Three flights into Manchester Airport have been diverted after technical problems with a landing system.
A Lufthansa flight from Frankfurt and Iceland Air flight from Keflavik were redirected to Birmingham and a Flybe plane from Paris was sent to Liverpool.
All other arrivals were being landed on runway two after the problem with the instrument landing system, which failed at 11:00 BST, affected the airport's main runway.
Departures have not been affected.
Manchester Airport said the problem was being addressed and no other flights should have to be redirected elsewhere.