Manchester council considers plan for 'anti-wee' paint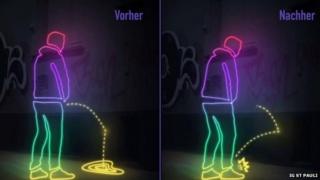 High-tech "anti-wee" paint could be introduced across Manchester city centre in order to deter drunken men from urinating in the streets.
Manchester City Council is considering coating public areas with the revolutionary paint, which simply bounces back anything sprayed at it.
The idea has been raised after the success of a similar scheme in the German city of Hamburg.
A councillor has begun talks with a company which supplies the paint.
Called Ultra-Ever Dry, the maker claims it will "completely repel almost any liquid".
The paint was introduced in several public areas in Hamburg's red light district earlier this year.