Hedgehog charity boss given British Empire Medal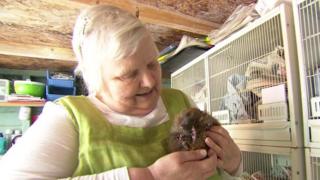 The founder of a hedgehog charity in Manchester has been presented with a British Empire Medal.
Barbara Roberts, who set up Withington Hedgehog Care Trust, has cared for thousands of sick and injured animals since 1985.
She was presented with the honour by the Lord Lieutenant of Greater Manchester on behalf of the Queen at Bury Town Hall.
The 63-year-old said she was so "excited" she could not sleep.
She said she started looking after hedgehogs when one fell into her pond.
"There wasn't anyone who could care for it so I studied as much as I could and I hand-reared it."
When he got too fat, she took him to a hedgehog hospital in Stalybridge which is now closed.
"They took him on and then I took disabled hedgehogs on and it got well known and it just went on from there," she said.
She now has a nursery in her house for very sick and baby hedgehogs and a relief centre and three outbuildings in her garden to accommodate them.
She said: "I absolutely adore it. I like to get them back in the wild."
Ms Roberts set up the charity in 2001 and takes hedgehogs from Liverpool to Cumbria.