Six Lancashire Fusiliers' Gallipoli Victoria Cross medals displayed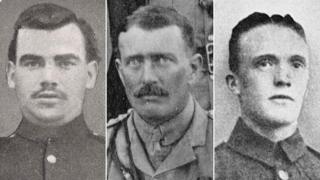 Six Victoria Cross medals "won before breakfast" by Lancashire Fusiliers in the Gallipoli landings have gone on show together for the first time.
The medals for valour shown in the War War One dawn assault near Cape Helles, Turkey, on 25 April 1915 are on display at the Fusiliers Museum in Bury.
They are the highlight of a centenary exhibition of the mission.
The museum owns two of the medals and were loaned three others. They had to put out an appeal to trace the sixth.
Staff tracked down the remaining Victoria Cross (VC) awarded to Maj Cuthbert Bromley, that had not been seen since the 1980s, and his nephew Nick Bromley presented it to the museum earlier this month.
The major received Britain's highest award for bravery along with Cpl John Grimshaw, Pte William Kenealy, Sgt Alfred Richards, Sgt Frank Stubbs and Capt Richard Willis for their actions with the 1st Battalion Lancashire Fusiliers at Gallipoli.
The medals will be on display at the museum until 16 May.