Sale flat fire: Man dies and two injured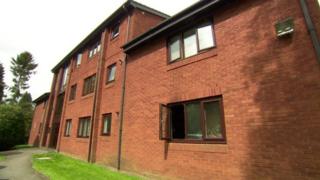 A man died and two people were injured following a fire at a flat in Greater Manchester.
Fire crews were called to Brooklands Road, Sale, at about 07:00 BST after smoke was seen coming from the home.
A neighbour suffered burns to his hand after smashing a ground floor window and using a fire extinguisher to try and rescue the trapped 77-year-old man.
The man's wife managed to escape through a window. Firefighters rescued the man, who later died.
An investigation has started into the cause.